Teaching Art: A Case Study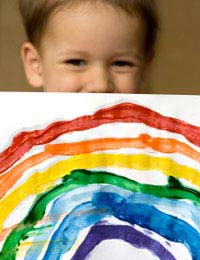 Diane became an artist when she was still at school. She showed a natural gift for painting and art from a very early age. After leaving school, she began to lack confidence that she could ever make enough money from her passion. As a result, Diane fell into one office job after another. Art became a hobby to be squeezed into the moments between getting home from work and going to bed or at weekends. Things didn't improve when Diane married and became a full-time mother of two girls.
Going Back to Work
As the girls got older and more independent, Diane realised that it was time to start earning money again. The obvious choice was to go back to office work but there were a few problems with this. It was very difficult for Diane to find something that fitted in with school hours and holidays. The biggest issue was the nagging feeling that Diane was neglecting her true vocation, art.
Taking Stock
Diane sat down one evening with a pen and paper and listed all the ways she could possibly make money from art. Suddenly, one option was screaming at her. Diane had spotted a way to combine her enduring love of art with family life and the need to earn an income. She decided to set up an art club after school and to teach the children everything she knew about how to be an artist.
Getting Started and Writing a Business Plan
Diane started by researching the basics of starting a business, particularly one that involves teaching children. She uncovered the basic costs that would be involved. These included costs for materials, simple promotional flyers for the parents at school and insurance costs. One of the outlays and procedures she was careful to investigate was the important check with the Criminal Record Bureau, a mandatory requirement for anyone wishing to work with children. When Diane had written a simple business plan she was ready to approach the headmaster of the school with her plans. For a nominal fee, she was able to 'rent' one of the classrooms for an hour and a quarter after school, twice a week.
A Success Story
With some simple brainstorming and a desire to make the most of her natural skills, Diane had identified a real gap in the market. The art group was an instant success, combining additional after-school childcare with creative education. The two classes were split according to age and Diane was careful to explore a variety of different techniques and approaches to art to hold the interest of her pupils. She also ensured that each project had a theme or the lesson plans reflected seasons, festivals or traditions.
With a little lateral thinking, Diane had found a way to combine motherhood, with a pastime and an income. It was a real accomplishment and Diane never lost the thrill of sharing her passion for art with young and curious minds.
The Future is Bright
Diane's success continues and as old pupils move on, there is always a new intake at the school who are keen to join her classes. The art club has been such a triumph, that Diane has even expanded her art teaching activities. She decided to extend the club to take account of the numerous school holidays. Diane now offers two to three half days of the club per school holiday. These holiday sessions are very well attended, often with a waiting list! Just a few years after starting her teaching clubs, Diane confidently expanded her business by offering art and craft classes to toddlers and their Mums during the day.
Diane is hopeful that as her girls get older and less reliant, she will also be able to create another income by selling her own art. After all, as Diane says the young people she takes such pleasure in teaching are a constant and fresh source of inspiration for any artist.
You might also like...