Find your Style and a Niche in the Art World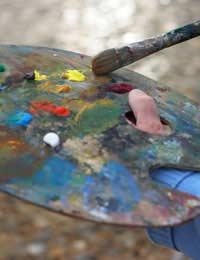 You have made the decision to start an art business. You think you have a skill, such as painting portraits, which you can sell. That's great, you have your niche, provided you've done your market research and there is a ready market for it. However, for many of us, that's not the case. You know that you want to work from home making things to sell to other people but you don't have a given skill, or your skill doesn't sell well. Don't panic, skills can be learned. Niche markets can be discovered.
If you already have a skill, but there is no niche market for it, you can create one. It's not easy, but it's not impossible either. However, this is normally in the realms of large organisations that have the time and necessary funds to put into building market. If this is the route that you want to take, get advice from your local business advisory service. You have a long road ahead. The more sensible option is to look at the market closely, find a niche that you're interested in and then learn the necessary skills.
The secret to success for craftworkers is to find a balance. A balance between using your skills to make a product you love making while fitting into a niche market. The product needs to be something the consumer wants while utilising your unique talent. By studying the market, doing your market research, you should be able to find that balance fairly easily.
Studying the Market
Studying the market carefully will help you to see what is selling well and what isn't. Visit craft fairs and galleries and make a note of what people are buying. Look for shelves that are half empty, this is a good sign that a product is selling well; the shelves that are full are normally the items that are not in such great demand. However, make sure you visit more than once, as sometimes a full shelf could mean that is sells so well it is restocked daily. A regular visit will help you to determine this.
Once you have spotted a product you want to make, start to think how you can make it different without changing its functionality. It may be that a plain ceramic jug sells well, but would sell even better if you added names, pictures or other decoration to it. People love personalised items, especially for gifts and the majority of craftwork is purchased as gifts.
Questions You Must Answer:
To determine that the niche you have spotted is right for you, there are some questions that you must ask yourself:
Can I make enough items to meet demand?
Would people buy my style of work?
What's the competition like?
Is my work good enough to sell?
How fast can I get a range ready to sell?
Is it easy to make my product?
Is it expensive to make my product?
By answering these simple questions you will get an idea of whether your product will sell, if you can produce enough if it sells well, and how much it costs to produce. The lower the production costs the more room there is to make a profit. Remember, low production cost does not mean low quality!
You might also like...