Commitment to Setting Up Business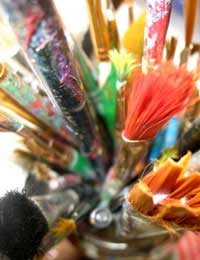 Every new art business is a triumph. It is the culmination of hard work, determination and an idea that grew into a reality. You have a product that you believe has the potential to sell. You have done all the promotion and you have all your equipment. Now comes the hard part. Commitment. Without it your business will fail miserably.
The failure rate of businesses is higher than the success rate. This can be for a number of reasons, lack of sales, cash flow or debt. The other reason that many small businesses fail is lack of commitment.
Running your own business is not easy. It takes a lot of hard work and many, many long hours. It is tiring, exhausting at times, and lonely. It takes courage to battle on when you feel you are getting nowhere but with determination and commitment you can succeed.
Definition
The definition of commitment in the dictionary is: an obligation, responsibility, or promise that restricts freedom of action, dedication to a cause or principle.
This is exactly what running a new art business is. It is your dedication to your product and belief that it will sell. It also restricts your life while you build it up. You will often hear self-employed people say that they 'work all the hours that God sends' and to a point that is true, but to avoid burnout you also need to find time to relax away from the business.
Running a successful business is a balance between commitment and living your life. If you don't take time out your commitment will waiver, whereas if you do relax when you go back to the business you will be filled with new energy and won't become jaded.
Balance
Finding a balance that works is very much trial and error. You may have to try a few combinations before you strike the correct balance. However, whatever works to keep your commitment and belief in your business alive while avoiding becoming overworked and stressed is fine.
Initially, you will have to invest more hours in your new venture. It's like having a small child. It's demanding, it drives you crazy and at times you wonder why you bothered, but one day it will be mature and will reflect all your hard work and start to give something back for all the time you invested in it. Ultimately, it is rewarding.
Support
It is vital that you have support from a variety of sources while you set up your business. Chances are, unless you go to work part-time, that your household income will drop to one. Your partner will have to take the strain while you build the business. Family support can be the difference between succeeding and failing. If your family don't support you it will be impossible to balance your family commitments with that of your business. Family will need to pick up the slack when you're busy with the business.
There is also external support in the form of new business organizations, such as Business Link or for people under thirty, the Princes Trust. For those on benefits there are schemes offered by the Job Centre to help you get a business going – complete with start-up advice free of charge. Take advantage of it. It may be the difference between success and failure.
You might also like...