The Importance of Using Quality Materials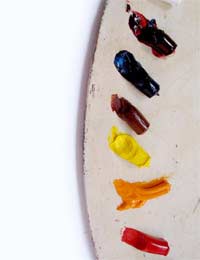 When it comes to buying art supplies, such as canvas, brushes, acrylics, paints, pastels and all other equipment, it is vital that you buy the best quality you can afford. It is a false economy to buy cheaper products, even if they seem to be a bargain. It is true, you can get more for your money by buying lower grades of paints, brushes and papers, but you will use more to get the same effects as you can with higher quality items, which means you won't save money and it will reflect in the quality of your work.
Brushes
With brushes it is important to choose products with soft, long lasting bristles. Try to buy sable if you can as they leave fewer brush marks and they have a longer working life than that of the brush containing acrylic bristles. Buy a range of sizes to enable you to tackle all subject areas. However, you can add to your collection of art supplies as you go.
If possible, when choosing a brush, visit your local art supplies store and hold the brushes. They need to feel comfortable in your hand, the bristles need to be soft and flexible, and in the case of oil painting brushes, durable too. Try not to be disheartened by the high prices charged in the art shop for the brush you want, the objective of this visit is to try them out. Once you have chosen the style, range and manufacturer you want to use you can go home and look online for the best value.
Paper & Canvas
By far the best and cheapest way to get good quality art canvas is to make it yourself. You can buy really high grade canvas online from fabric stores and then stretch it onto frames ready to paint. It is long winded and tedious but the quality will speak for itself. It also gives you the option to paint directly onto canvas and turn the artwork into bags, purses and cushions to sell to customer. Usable art is becoming very popular. Failing that, there are many extremely good art suppliers about, but avoid cheap, tempting canvases in bargain shops, even for experimenting as the results are not always good.
With paper, again, try to buy high grade papers. You can get advice on which is best by joining forums and newsgroups. Other artists are only too keen to help, but if you prefer to go out and buy it without asking for advice, then buy at least 300gsm paper as you need it to be durable and not go floppy or soggy as you add wash after wash onto the surface. Remember, you can also use watercolour paper for ink, colour pencil and watercolour pencils as well as paints.
Acrylics & Paints
These are probably the most important purchase you will make when painting your own pictures. Always buy Artists Quality grades and avoid Students Quality as the student version contains far less pigment and that reflects in the results. Although higher priced, more pigment means that the paint will not only go further but the results will be far more vibrant and crisp.
Shopping Online
When you have visited the local art supplies shop, settled on a product, then come home and do a web search for it. It is almost guaranteed that you will be able to make substantial savings by doing this. However, try to stay away from Internet auctions as some low cost products can be fakes. Instead, opt for reputable shops to ensure that you receive genuine goods.
You might also like...