Pottery Painting Shops and Parties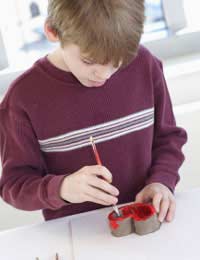 Sometimes, it makes good financial sense to diversify your art business and explore different options. The ideal solution is to choose something that complements and accommodates your particular skill as an artist. An excellent example is the growth in popularity of pottery painting shops and cafes.
There are thousands of pottery painting shops and cafes all around the world. The trend began in New York during the 1990s and has enjoyed a meteoric rise in popularity.
What are Pottery Painting Shops?
They are usually shop-front premises which operate on a drop-in or appointment basis or maybe even a combination of both. Experiment with these systems to see which suits the running of the business best.
The customers choose an unpainted, ceramic bisque. There is usually a huge range of items to choose from catering for every taste and purpose. Customers can choose plates, cups, ornaments, tiles or novelties. These are then painted on the premises using the paints and materials provided. The customer leaves their finished art at the shop and collects it a few days later when the item has been glazed and fired. The shop usually charges for the bisque, studio time, glazing and firing.
Where is the Market?
The more successful art businesses of this type are found in areas where there are higher levels of disposable income. They seem to perform better if there are elements of passing trade who may be intrigued by the goings-on beyond the shop front. This needs to be carefully balanced with the increased rental costs of such profitable premises.
You will need to research and identify your potential market. Some examples may include:
Parents and children looking to spend quality time together in a shared, creative activity. This will be a large section of the market during the weekends and the school holidays.
Clubs and societies looking for novel activities.
Adult evenings with music, wine and snacks. (Special note: Remember to warn them that greasy fingerprints will adversely affect their finished item!)
What do you Need to Set up Pottery Painting Shops?
First you will need to find the right premises. Find somewhere which is more likely to attract the target market.
There will be several considerations to take into account when choosing the right premises:
There must be a studio area with plenty of tables which can be configured to accommodate couples or large groups.
An area to display bisques for sale.
An area set aside for glazing and firing with facilities to accommodate a kiln.
There needs to be suitable facilities to provide light refreshments. This could be as simple as drinks and snacks vending machines. More elaborate catering arrangements complicate your business.
Other things you will need are plenty of materials such as ceramic paints, brushes, stencils and bisques. These all need to be sourced and a plentiful, competitive supply arrangement should be set up.
Other Opportunities
The beauty of this art business is that it offers a myriad of other business ideas that you can adopt to strengthen your business. Some additional ideas and services you could offer are:
A mobile branch offering the service to homes for private parties, clubs and educational establishments.
Unusual items like baby and child memorabilia e.g. foot, hand and fingerprints to create a unique family treasure.
Themed adult evenings. For example, you could advertise a weekly singles' session at the shop.
Classes in different skills like stained glass, glass painting, oils or watercolours.
Pottery painting shops are a new and exciting way to combine your personal enthusiasm with a lucrative business. There is also an immense amount of satisfaction watching other people discover the art you fell in love with yourself.
You might also like...