Craft Shows and Stalls to Sell Your Art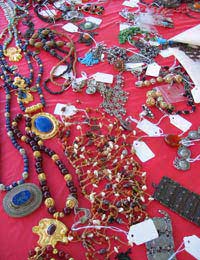 Craft shows are a rare opportunity to sell your art via immediate, impulse sales. They are singular events with passing trade. This makes craft shows lucrative and worthwhile activities.
It's easy to find contact details and listings for craft shows. They're listed on the Internet, in the local press, libraries and tourist information outlets.
Why Sell Art at a Craft Show?
Most art purchases are carefully considered. After a buyer has seen an attractive work of art, they tend to leave the gallery or studio before they make a decision. This can mean a lost sale. However, if people fall in love with one of your works of art at a craft show, they will feel they need to purchase immediately to avoid losing out.
An impulse sale is a good opportunity to court future business with a business card or brochure. It's an opportunity to set up permanent contact.
When you exhibit at a craft show, you will usually pay the organisers a one-off fee for your stall. All the money you take is profit with no commission to the organisers. This contrasts sharply with gallery practice.
The mobile nature of craft shows mean you can reach more geographical markets. Think about displaying the right work for the area. Do you have any artwork that has local relevance or subjects?
Selling art at a craft show is a chance to build a solid client base by creating a mailing list. There are a couple of ways to do this:
Ask interested viewers of your stall whether they would like to receive mail shots or newsletters about your work, sales, special events or other shows you are attending.
Subject to the rules of the show organisers, think about running an in-show competition. This will attract 'footfall' to your stall. By collecting details for a draw or raffle, with their permission, you'll be able to build up a good database of contacts. The details can be used for targeted mail shots and campaigns at a future date.
Make Your Craft Show Art Stall a Success
Preparation is the key to your success at a craft show. Choose your show stock after researching the show's location. This will give you valuable clues about your potential market.
Try and keep costs to a minimum to create maximum profit margins. Look at ways to keep your transport and set-up costs as low as you can. Also, be realistic about the distance you are prepared to travel to an event.
Before you leave, pack essential supplies as well as your stock. Remember to include equipment like business cards, receipt slips, pens and refreshments to maintain your energy levels.
Make your stand attractive and let it speak for itself. In a tent full of clutter, buyers may be drawn to a simple and effective display. Ensure that your name is prominent as this is your 'brand' and it's important to be recognised.
Hopefully, your work will create a real stir. For the sake of your display, encourage buyers to leave their purchases on the stall instead. Use prominent stickers to designate items as 'sold'. This keeps things neat and creates a sense of urgency to prospective buyers. They can see that they could miss out if they don't commit.
Finally, consider taking a friend or colleague to assist. This will allow you take regular breaks and maintain your enthusiasm and professional approach.
The End of the Craft Show
Take stock of each show as it ends. You need to be objective to judge whether it's worth exhibiting again. Chat to other exhibitors and see how they fared. Make notes about which paintings sold best and which stalls generated most business. These are all clues about the market.
A successful art stall at a craft show is a matter of common sense and planning. The show potentially opens up new markets and invaluable opportunities for a reasonably low outlay.
You might also like...