Transporting Your Art Via a Removals Service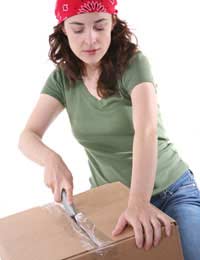 Transporting artwork can fill any artist with dread. Even a professional removals service can lose or damage artwork, causing you and your art business a read headache. However, they also provide a valuable service to artists needing to transport their work across the UK.
Whenever you book an exhibition, enter a competition or go to a trade fair you will need to transport your artwork to the event. Normal car insurance won't cover transporting business goods, not to mention lack of room to fit it all in. It is at this point you will need to consider hiring professionals.
Removals Service
When you need to transport your artwork, don't ring your local house removal firm and hope they do a good job. You need a professional art removals service. These people specialise in moving artwork around the UK and are highly skilled at looking after your work, providing you go with a reputable company. As with all businesses, there are good ones and bad ones, if you can ask you local gallery who they employ and approach them. Recommendation is the best way to choose a firm. Word soon gets round about the firms that have damaged or lost artwork. Once you have found a reliable company, stick with them.
Packaging
Make sure that your artwork is adequately packaged and protected for its journey. A removals service will look after your work, but they do require that you make sure it is safe to transport. It is no good wrapping a delicate canvas in brown paper and expecting it to arrive in one piece. Pack and wrap it according to its vulnerability, the more delicate the work the more substantial the protection needs to be.
Insurance
Adequate insurance while your work is in transit is essential. Ask the removals company if they provide insurance, if so, if you can see a copy of the policy. Make sure that you have enough cover for the value of work you are sending. It is no good using their standard insurance of £100 if you are sending goods to the value of £1000.
If the removals firm doesn't have adequate cover or indeed none at all, then you will need to arrange your own insurance cover. If you are a member of an art society, such as the SAA (Society of All Artists) at Gold Member level you will find that you have insurance covering your work.
Arranging insurance for your work is easily arranged by doing a simple web search and contacting some insurance companies for quotes. Always ask what the exclusions are on the policy and choose the policy that offers the best cover rather than the lowest price, as this could prove to be a false economy if the worst should happen to your artwork.
Remember
Adequate packing and adequate insurance will help to protect you for most eventualities while your artwork is being transported to its destination. Failure to make sure you have enough of both could be disastrous. Check and double check everything before you ship your work, after all you can't be too careful, but you can be very, very sorry if you don't do your homework.
You might also like...