Displaying and Promoting in an Art Gallery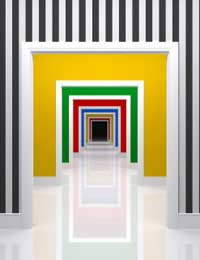 It is not always possible to have a say in how your artwork is displayed in an art gallery, but you do have a say on which pieces you want to display and in what order.
Be prepared
When you approach the art gallery in which you want to display your work, it is vital that you ask to see the display area where your work will be exhibited and ask as many questions about how the work is hung, or displayed, as possible. Asking questions now will save you a lot of time later if you prepare work unsuitable for display in the gallery.
For artwork you will need to ask how the work is hung, the maximum and minimum sizes allowed, if the work should be glazed and framed. You will also need to ask if the gallery has insurance to protect your work while in their care or if you need to provide your own insurance. You will also need to know if you need to hang the work yourself or if gallery staff will do it. When you have to get the work to gallery, if they need to approve it before the exhibition, if they provide a collection service for your work or they can recommend a company that transports artwork. Don't forget to ask the cost of exhibiting your work, in some galleries it can be a substantial amount plus a percentage of your sales; always check before booking. Ask as many questions as possible, the gallery owner won't mind and you will ensure that it saves you both time when it comes time for the exhibition as you will be well prepared.
When it comes to sculpture you will need to ensure that the work will be displayed safely and away from the hands of children. Again, check that the gallery has insurance, not only to protect your work should it be damaged, but should it cause injury to a customer you will need liability insurance on your work also.
Promotion
When you have a firm date for your exhibition you will need to think about promotion, with this comes the arranging of your launch party. This is an important part of exhibiting your work and needs to be done properly. You will need to get fliers printed, send out press releases, arrange for food & drinks and send out invitations to as many local influential people as possible. You want good reviews and reports from the press, so make sure they are invited. There opinions can spell money when it comes to potential customers reading the reviews.
Promotion is the key to success with most things. If no one knows that you are having an exhibition how can you expect them to attend? Try to keep the launch party fairly low key, not a good idea to blow thousands when you are starting out, but keep it professional. Being on a budget doesn't mean doing things on the cheap. Remember, the purpose of the launch party is to advertise yourself and your work, not give everyone a free meal and get them drunk.
Remember
Promotion, promotion, promotion is the key to a successful exhibition.
You might also like...
I LOVE TO SELL DIGITAL ART WORK ON LINE
DERICK.N
- 7-Jul-13 @ 8:14 PM