Hold Your Own Exhibition in an Art Gallery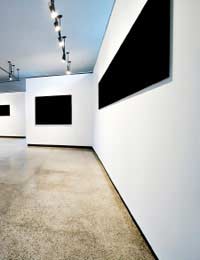 Holding your own exhibition can be exhilarating and terrifying at the same time, but if you follow a few basic rules everything will be fine.
The main thing to remember is that you are in control. If you decide that a piece is not good enough to exhibit, then pull it out and replace it with a more suitable piece. You may find it will help you to focus more clearly if you theme your exhibition, for example, botanical water colours, acrylic portraits, watercolour landscapes. That way you will not spend hours wondering what to paint next. You will have a clear path to follow with a goal at the end of it – to exhibit your work.
There are many reasons for wanting to hold an exhibition of your work. Here are the top five reasons for holding an art exhibition:
To sell your paintings or sculptures and raise money to grow your art business.
To promote your business and make yourself known in the art world.
To introduce your work to the public in a bid to secure future sales.
To motivate yourself into creating a beautiful portfolio.
To boost your self esteem and know that you have arrived on the art scene, loud and proud.
Of course, if you feel a little out of your depth holding a solo exhibition, then invite some fellow artists, not your direct competition, to exhibit alongside you. This not only provides valuable moral support but it helps with the cost of the exhibition.
Preparing for Your Exhibition
There is a lot of preparation work that goes into exhibiting your artwork. You will need to ask the gallery owner how many paintings, prints or sculptures to bring. You also need to know about lighting, hanging facilities, launch party provisions, duration and cost.
Once you know how many works of art to bring you can start to select the pieces that you want to show, using a theme you decided on earlier. You will need to get them professionally framed in order to show them at their best, but remember the focus is on the artwork so try not to pick frames that distract from your work and remember that simple is cheaper.
You will need to arrange transport to and from the gallery along with insurance. The gallery will often recommend a reliable company to transport your work if you ask. With insurance, some societies include it in their top packages, such as the Gold Membership with the SAA (Society Of All Artists).
Most galleries will expect you to organize and hold a launch party the evening before an exhibition opens to the public. It doesn't have to be a full cocktail party, a buffet and wine will be fine, but you need to make sure you dress smartly and have all your information to hand about your work. It is normally the case that you invite the press, friends and family and a few local dignitaries to the opening, such as the Mayor. They won't all accept, but some will and the press love launch parties.
Once you have arranged everything, you can go there with pride knowing that it's your work that people have come to see, and your work they will talk about when they leave and that is priceless.
You might also like...