Run a Successful Art Workshop Day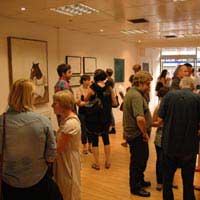 As a busy artist and business owner, you'll have more than enough on your plate without getting involved with running art workshop days. It might be time to rethink this view, art workshop days can have a real effect on the running of your business and the art you create.
Why are Art Workshop Days Such a Good Idea?
They take up money and effort, so why entertain the idea of running an art workshop day?
Art workshop days cost your delegates money, this turns into extra revenue for you. It's a very good way to raise profits if times are tough in the art world.
Art workshop days will raise awareness of your business and your portfolio. It's a brilliant form of advertising.
Offer discounted rates for existing clients and make them feel special, or part of an exclusive club. This is a proven method of hanging onto a core of repeat business. It's aspirational for new customers too; they may want to know how they can join your club?
Art workshop days are fun, the delegates will be keen to offer valuable feedback on your work too and by the time all the delegates go home, you may find you are freshly inspired.
Pick a Theme
Art is a big subject, so you need to isolate a single aspect that will form the base of your workshop. It needs to have appeal in the market and it must be specific and achievable. If you find it tough to choose a theme, start by visualising the item you would like to see your delegates leave the workshop with. Once you have the end-result, work backwards until you've uncovered the theme.
Planning is key
Planning your art workshop day is a key activity.
Where will you hold the workshop? It needs to be accessible, suitable for the activity and ideally it will also be a showcase for your own work.
Make sure you have planned a structure to the day and make it known to your delegates. This not only whets their appetites but also entices new delegates to sign up. People like to know exactly what they're paying for. While planning your agenda, make sure the outcome or goals you set are realistic. They want to leave the workshop with a piece of completed work and won't enjoy a rush to the finish.
Set out an effective and targeted advertising campaign, raise awareness of your name and portfolio as well as the workshop itself. Try to keep costs down so you can maximise your revenue.
Offer refreshments during the day, at the very least, tea or coffee and biscuits. A shared lunch is a great bonding experience and pulls the day together. If you can manage to provide a lunch, reflect your increased costs in the price and use lunch as an additional selling point for the day.
It might seem tempting to get as many delegates through the door as possible but you must keep the groups small enough for you to be able to devote enough attention to each member of the workshop.
Prepare your materials ahead of time. Each student needs the same equipment. They can either provide their own or you can provide the items within the cost of the workshop day. Make your decision known either way.
On the Day
Take some time to familiarise yourself with good teaching practice. This will be key to the student's feedback of the day. Make sure you reward and encourage each student in equal measures. There will be mixed abilities but you must ensure that nobody feels belittled or inadequate.
Feedback should be provided throughout the day but it must be positive and encouraging.
Make sure your work is displayed prominently; this is a great way to turn delegates into clients.
Before the delegates leave, ask them to complete a short feedback form. This helps you to plan the next workshop and is a good source of ideas for future advertising campaigns.
Art workshops may be a little different to your usual creative pursuits but don't ignore all the possibilities they offer. Fun and rewarding, they offer great benefits to your clients and to your business.
You might also like...