Identifying Trends in the Art World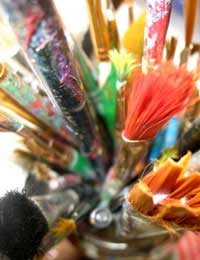 Where there's art, there are trends. From realism to modernism and cubism to impressionism, for your art business to succeed it's vital you stay on top of the current movements in the industry. By producing or selling art which appeals to contemporary trends, you are addressing your customers' needs and positively affecting your income.
Identifying trends in the art world is incredibly cost-effective. Your biggest investment will be time rather than money. The results and the impact the research has on your business are significant. Not only will it help to attract new custom but it will also retain loyal clients. Staying as a front-runner in the art world helps you to nudge ahead of the competition.
Why is Identifying trends so important?
Identifying trends is akin to identifying markets. Your business will be sleeker and more efficient if you stock or produce art that is more likely to earn income. If you don't do your homework, you are making the business very vulnerable. It's probable that your competitors haven't neglected their research.
As an artist, studying trends is not only a boost for your business but a boost for your creativity too. Picking up on new trends and fashions will encourage you to introduce new elements and techniques into your work.
How do you identify trends in the art world?
Read, read and then read some more. Make sure you set up regular subscriptions to consumer and business art magazines. Look at the up and coming artists, why is their work becoming more popular? As well as reading articles, features and market reports, look at the adverts and diary listings in industry publications.
Visit galleries and art exhibitions. As a visitor you will be more able to pick up on the 'buzz' from the shop floor. Make conversation with other visitors and gather clues on the aspects of the art that appeals to them and gets people talking or excited.
Ensuring you have a good online presence will help you to build links and networks. You have more chance of seeing new trends and ideas emerge. You will also be able to observe comments and reviews from other customers and get a feel for movements in fashion.
Don't overlook popular culture as a source for new trends in the art world. Immerse yourself in the fashion, food, music and entertainment that swamp modern society. All media has a direct effect on how we view the world around us and it's reflected in the art that emerges as a result.
Take the time to notice social trends. What sorts of lifestyles are most common? Who is buying art at the moment? Is the economic health of the country having a direct effect on the popularity of different styles of art? What new cultures are influencing people's tastes?
Now what?
Having taken the time to identify and observe new trends within the world of art and society beyond, you need to use the information wisely.
Make sure you document the results. Instead of just notes, find inspiring ways to record your findings. Use words, sketches, mind maps and even mood boards.
When you have recorded your observations, compare it with some of the work already in the public art domain. Use the information and devise an action plan that ties your art business into the trends you've uncovered.
Being able to identify new trends is an incredibly cost effective way of injecting some energy into your business. Investing a little time will reap rewards that can only set your profits into a positive, upward trend.
You might also like...
@FLOWER. thanks for letting us know and good luck with your exhibition.
StartAnArtBusiness
- 27-Feb-15 @ 10:06 AM
Thank you so much for all this information. And I am so fortunate to have found this site just in time,before my up and coming exhibition in April 13th 2015. So much that I really needed to look into, which has opened my eyes to now go forward. Great stuff !! Thank you….
FLOWER
- 24-Feb-15 @ 3:52 PM