Questionnaire: Your Art or Your Business?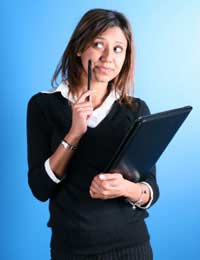 Finding the right balance between being an artist and being a business person is a well-documented struggle. Creative art, business planning and time management are such diverse disciplines, it's unsurprising that artists find it difficult to embrace them all. Good business practice however, maintains income and allows the artist to continue creative output as a result. There are some simple pointers and questions every artist should ask themselves in order to find out if they are maintaining the right balance and to identify issues or areas for improvement.
Are You in your First Year of Business?
If so, it's essential that you step back from your work and examine your marketing practices. At this stage, it's vital to establish a strong customer base and a good level of repeat business. If your business is older, it will become more self-generating. Some of your business will come from referrals and commissions and your presence within the art world will be recognised hopefully. If this isn't the case, refer back to your marketing plan and take time to review your activities.
Do you Know What Your Art - Business Activity Balance Looks Like?
Try turning your daily activities into a visual image. This will pinpoint the artistic-business balance and highlight any weaknesses. Keep an hour by hour diary, with one line explaining your activity and marked with a single colour to identify either business or art. Use your findings to create a weekly schedule, with proper and formal time slots for defined art or business activities.
How Long Does it Take You to Carry Out Business Activities?
If you find you are taking too long to complete business tasks, it will be at the expense of your artistic output. This is easily remedied. Using your time schedule, identify areas where training would benefit your business skills. With proper training, business tasks will be more effective and quicker, allowing the artist to redirect time to creative production.
Have You Added Break or Leisure Time to Your Weekly Schedule?
It's easy to forget that everyone needs some free time. By adding slots of time for rest or relaxation, you will find that artistic productivity is affected positively.
Is Art Time Luxury Time?
If this is the case, you need to adopt a different mindset. Artists who make a living from their art are incredibly lucky; they can create an income from a personal passion and talent. This is a very rare and enviable thing, it's a true luxury. However, you must not let this idea infiltrate your work life. Artists must never feel that their day to day creativity is just a luxury. This can mean that their work is sidelined until 'important' business tasks have been completed. Try and remember you are a very lucky human factory and your prime function is to practice your gifts and produce art.
Are You Organised?
It's a simple fact that all activities are much quicker if you are organised. Be objective and look at your working week and business systems critically. Are there any time-saving procedures you could adopt or new systems that would help to save time?
Are You Making a Comfortable Living From Your Art?
If you are selling your art, there must be some creative merit in your work. However, if your income from art is low, your marketing plan may need to be reviewed. If you can increase your business acumen and profit margins, it may be possible to delegate some of these important business roles to other people.
Do You Have Clear Business Sight?
Clarity is a great friend to business. It means that you have a clear view of your priorities and goals, maybe a definitive business plan. If this doesn't sound like you, you must make a start on achieving clear sight. Start by listing your goals and aims along with a timescale. What do you need to do to achieve this? Create a wish list and from that a 'to-do list'. Using your list, mark out formal time-slots in your schedule to work through these tasks. They are more likely to be achieved than if you address them on an ad hoc basis.
Do you Know Who your Customers Are?
Always make sure you know who your customers are, what they like and how you can reach them. Familiarise yourself with some simple direct marketing ideas. Make sure your marketing ideas are targeted, not a 'pepper gun' effect. Effective marketing frees up creative time and increases income.
Take a moment to ask yourself these basic questions and reassess your way of working. Remember the basic premises that clarity of thought, a proper business schedule and effective time management will all conspire to increase your creativity and income.
You might also like...