Tips for Displaying and Showing Your Art Work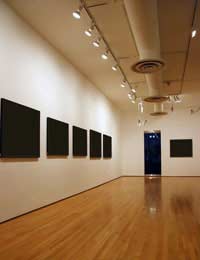 Once you have a selection of art ready to display it's imperative that you present it in the best way possible. You need to pay attention to detail or your work will at best appear mediocre, or at worst, it will look amateur, resulting in poor sales.
Overcrowding
If you have rented, or own your own studio you can play around with your pictures until you are happy with their position. Try not to overcrowd the walls, give the customer time to take in each piece without their attention being drawn to the next piece. It is definitely true that less is more.
Lighting
Lighting is of vital importance as poor lighting can make your work look dull and lifeless. Mood lighting is also inappropriate as it can cast shadows onto the work resulting in false representation of tone and colour. Instead try to use as much natural light as possible, or if electric lighting is needed place it above the paintings to minimise shadows. Whenever possible use daylight bulbs as they contain the most natural spectrum of light. You should also try to use daylight bulbs if you want to paint in the evening as it gives a truer colour representation.
Neutral Palette
The walls of your studio should be as neutral as possible. This will compliment the works rather than detract from them. Try to opt for cream, white, beige or pale grey shades. Don't be tempted by bright, bold colours, save them for your paintings.
Display Area
Keep your display space as clean and uncluttered as possible. This will give the impression that you care about your work and your customers. If you don't have time to clean it yourself, recruit a member of your family or a cleaning person. However, tell them not to touch the artwork with cleaning chemicals. You should lightly dust these or wipe with a damp, detergent free cloth.
Customer Information
Organise a small table near the entrance containing your fliers and/or business cards for customers to take. Placing a sign saying that they should feel free to take one will avoid them walking out without taking a brochure. Remember the customer may not always buy straight away as paintings cost a large amount of money and they need to think about spending it.
Framing
For paintings that need framing it is important that you get it done professionally. Shoddy or cheap off-the-shelf-frames can make your artwork look cheap. Choose simple yet elegant frames to enhance your work. Time and money spent on having it done properly will pay dividends in the long term as well framed pictures look fantastic. You have already invested a lot of time creating the artwork, now is not to the time to start scrimping.
Exhibitions
If you are hanging your paintings in an exhibition you don't always get to choose how and where your work is hung, but you can ensure that your work is presented in the best way possible. Quality shows even when displayed in less than satisfactory galleries. However, if you have chosen a reputable gallery you will find they look after their artists and your work will be taken care of.
You might also like...