How to Get a Radio Interview for Your Business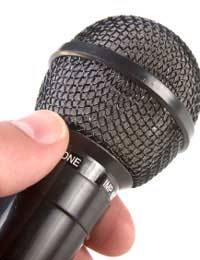 One way to advertise your art business for free, or for a small fee, is via radio - either traditional radio or internet radio. You can reach your target audience and get public interest by giving them the information about your business on the airwaves. Unless you go for proper marketing and advertising, in which case you will have to pay, you can ask for an interview about your artwork, and this is normally free, but you must have an interesting angle for the host to be interested in you.
Booking an Interview
Don't be pushy, but keep approaching the station and ask about being interviewed. Give them some background information about you, your business and any wards you have achieved. Try to be topical, don't apply a year after winning the Turner Prize (although they'd probably ring you then!), that's too late. Ring them as soon as you know you have won, they might like to do a follow-up interview about what it was like to get the award too.
The main thing to remember is be persistent. Eventually, you might have a story they are interested in.
The Angle
To get your message across via an interview you will need to get the radio station interested in you. Your first step is to make sure they are on your list of people to receive the press releases. If they don't know about you, the chances are that they won't be interested in you.
If you have won a local or national award, let them know. Your local radio station is more likely to accept you on the air, as they are always looking for local news to interest their listeners. It also means that you reach customers local to you; the ones more likely to repeat buy as they are in easy reach of your business.
Preparing
Before any interview, job or otherwise, it is imperative that you do your research and prepare fully. Of course with a radio interview you don't need to dress formally, but it is advisable to go smartly dressed as the host will see you and judge you by their first impressions. Keep the information about your business and achievements relevant. The audience want to know what makes you special and why you got the award. They are also interested in your thoughts on the art business, so try to be up-to-date on what's going on around you in the art business in general.
If possible, ask for a list of questions in advance. This will allow you to consider your responses and make sure that your answers are informed and relevant. Don't be afraid to ask them if you can submit questions that you'd like them to ask you. It's your interview, so try to steer it in the direction you want it to go in.
The interview
Don't be nervous. Try to come across as confident, even if you're shaking inside. It might help if you ask to visit the studio before your interview so that you can see how things work. That way it won't seem so overwhelming when it is time for you to go on air.
If you're apprehensive about how you come across on air, record yourself reading out your answers. Practice until your responses sound natural and not read aloud. This will help you to shape the way you sound on air, however, you can't change your accent so don't try!
You might also like...