Backing Up or Saving Your Artwork on Computer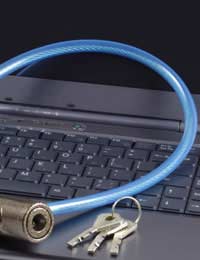 With any business, including an art business, it is important that you back up all your computer files away from your hard drive regularly. Saving them onto media away from the main PC is also essential security to prevent anyone stealing your art work, ideas or financial data, yet many companies fail to do this and often end up losing vital data.
Storage
It is of paramount importance that you store sensitive data away from your main PC. If the unit is hijacked by spyware or merely stolen, you stand to lose everything. Choose a method of saving your files that means they are stored separately from the main unit, this will ensure that you always have a back-up to restore your files should they go missing or become corrupted.There are several ways to store information; you will need to choose the best method for you. Remember, though, that despite being on a budget it is false economy to go for cheap or unbranded goods. The best way to store files is on an external hard drive. This way you can synchronise it with you main pc on a daily basis, ensuring that all changes are recorded. You can save diagrams and documents onto CD or DVD using the burner in your main PC. There are memory sticks available in many sizes; however, these are easy to lose.
Whichever method you choose, make sure you back-up regularly. Failure to do so can cost you both in time and finances. For most business a combination of devices is best. That way you can back-up the back-up. After all, you can't be too careful when it comes to making sure you protect your information.
Financial security
Never keep financial information about your business on your hard drive. Hackers can easily gain access to your hard drive and retrieve bank account information or passwords to online banking. Protect your information by storing it away from the PC. If you can, encrypt the data, so that if you lose you memory stick, for instance, no one can read it but you. Maker sure you also keep a second copy in case the first one does go missing.
Routine
Set aside a time every week to scan your PC for spyware or any other programs that have managed to find a way onto you hard drive. Update your firewall and anti-virus as well as defragment your hard drive before backing up your work to your chosen media. All of these things will help to ensure that your artwork, information, data and bank details stay safe. As with any business, this information is core to running your art business successfully. You can't afford to be lax when it comes to protecting yourself and your business. Although the Internet can be a great asset to running an art business, it can also be the hunting grounds for personal data, allowing its user to find and use information fraudulently. Can you afford to be a victim?
Remember
When it comes to your files, back-up, back-up, back-up!
You might also like...