Create a Website to Promote and Sell Your Artwork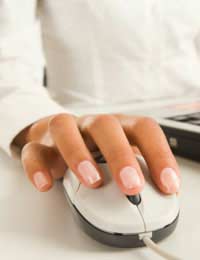 It is essential for any art business to create and maintain a website on which to promote their artwork. The first thing you need to do is register a domain name and arrange for webhosting. It may seem like a daunting task, but once you have mastered a few web design techniques you will find it easy to design your own site.
Domain Name
You will need a domain name from which you can promote and sell your art. The domain name is usually the same as your business name, i.e. canvaswitch or flowergardenprints; you many need to play around with how you write your business name if your first choice has been taken. Your domain name can then, provided your chosen name is free, be registered. You will need to decide whether to opt for a co.uk or a .com ending. If you want to sell internationally then choose the .com, for UK sales choose the .co.uk ending. You will then end up with a domain that looks like this: www.canvaswitch.com or www.flowergardenprints.co.uk.
When paying you can choose how long you want to register your domain name for, this is normally one or two years by default and you will need to renew your domain before it expires, but the company you purchase your domain through will remind you of it's expiry in advance.
Hosting
Now you have a domain name you will need somewhere to store it while you use it. This is called website hosting and is a service normally provided by the company from whom you purchased the domain name, and is basically renting space on a server that they own and maintain. It is worth shopping around for webhosting because there is a lot of competition and you can get some bargains. However, as you are running a business you will need to select business hosting to enable you to use shopping carts and high volumes of web traffic.
Once you have bought your hosting plan you will be given login details and passwords. Store these away from your PC to keep them away from prying eyes. It is worth noting that it can take up to 72 hours for your website to show up on the internet, until then it may say that the domain isn't found when you type it into your search engine. This is normal as it takes a while to be registered and become active.
Design
To design your website you have two options, use a software program and design it yourself (definitely the cheaper option) or hire a website designer to do it for you. Whichever method you choose make sure your site is simple, uncluttered and easy to navigate. Use clear and precise language, upload high quality photographs (optimised for web so they load quickly), always add a pricelist with delivery costs and a shopping trolley to allow customers to buy online as this is becoming the preferred option for many people. There is an old saying that if something doesn't have a price on it you can't afford it and many people still think that way.
Once you have a site you're happy with promote, promote, promote. Add the URL to your stationary and advertising. List the URL with search engines and get as many people as possible to link to you. The biggest thing to remember is to keep your site up-to-date to ensure you keep visitors coming back.
You might also like...